Youth Drug and Alcohol Project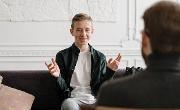 Our Youth Drug and Alcohol Project (YDAP) team offers specialist services for young people (aged up to 18 years old) living in the Sunderland area who have complex needs associated with substance misuse.
YDAP works with young people whose substance use is impacting on their life in a negative way, such as impacting on:
Physical or mental health
Housing
Family
Education
Offending behaviour
How we work
We will meet young people anywhere that is comfortable for them. This might be at home, at school, at a youth club etc.
We will complete an initial assessment to see what support you require and together we will agree a plan of action to achieve what is required. We will meet with you regularly to help, support and motivate you.
Confidentiality
Any work completed with YDAP is confidential. This means that whatever is discussed stays between you and your worker, unless it is deemed as a safeguarding issue. However, to help you get the best outcomes, our workers will always encourage you to include your parent or carer in your treatment journey.
Contact YDAP
Freephone: 0800 169 9892 | Office: 0191 561 4000 | Email: YDAP.Project@togetherforchildren.org.uk