Sunderland Healthy Schools Award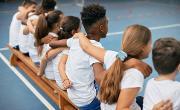 A positive, healthy school environment enables pupils and staff to enjoy coming to school and the wider school community to feel part of the school. These factors all contribute to children and young people maximizing their potential at school.
The Sunderland Healthy School Award has been developed by a local multi-agency group of health, education and social care professionals to support Sunderland schools to establish a positive, healthy school environment. In addition, the award recognizes the dedication of schools within the city to the health and wellbeing of their pupils, staff and local communities.
Participation in the award will also support schools to prepare for Ofsted inspections, as each charter has been developed in line with Ofsted guidance, and physical health, mental health and emotional wellbeing are all key components of Ofsted's common inspection framework.
Schools are eligible for the award when they can evidence that they have attained or are working towards attaining citywide health and wellbeing Charter Marks: Anti-Bullying, Great Active, Food and Nutrition, Mental Health, and Relationships, Sex and Health Education (RSHE).
To begin the accreditation process for your school, please apply using this online form.